INSIGHTS
A Guide to Popular Social Media Platforms around the World: Europe, North & Latin America and Africa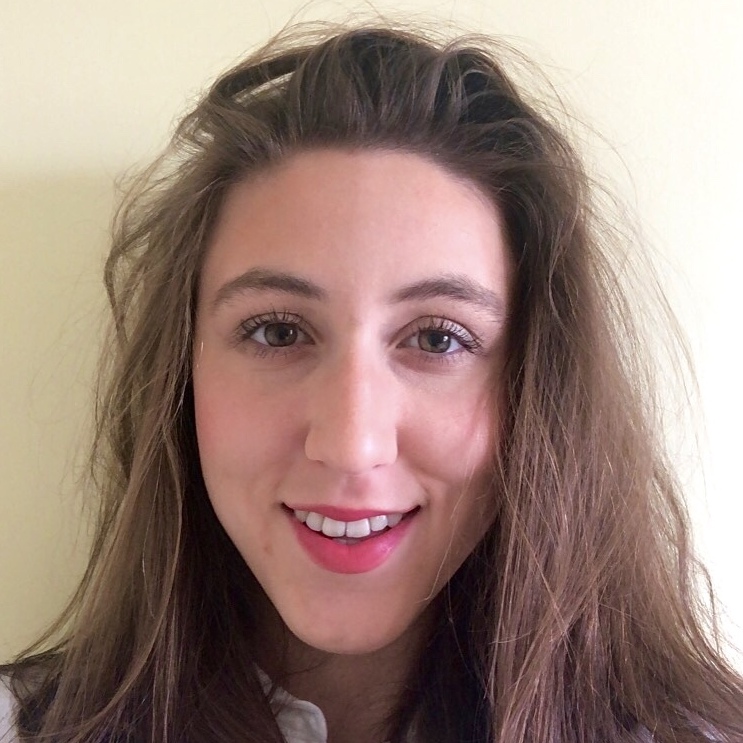 Lucia Evans |

31 Aug 2020
Europe, America and Africa are hotspot continents for marketing your brand but what are the best social media apps to communicate with your target customers?
Six Degrees is the first recognizable social media site created in 1997 enabling users to make a profile and make friends online. Since then, social media has become a global sensation and it is now incorporated in our daily lives where we would struggle to live without it. There are a great variety of social networking sites, and with nearly half the world's population online, advertising your brand and communicating with your target customers has never been easier. Social media platforms are different among the Eastern and Western markets, so in this article we shall take a look in the popular social media platforms used in Europe, North & Latin America and Africa.
TOP SOCIAL MEDIA APPS TO EXPAND YOUR BRAND IN EUROPE:
Although the population in Europe is much smaller compared to the Eastern side of the world (Asia and The Middle East), over half of its population (precisely 470.5 million) are active social media users giving great potential to your business in finding customers.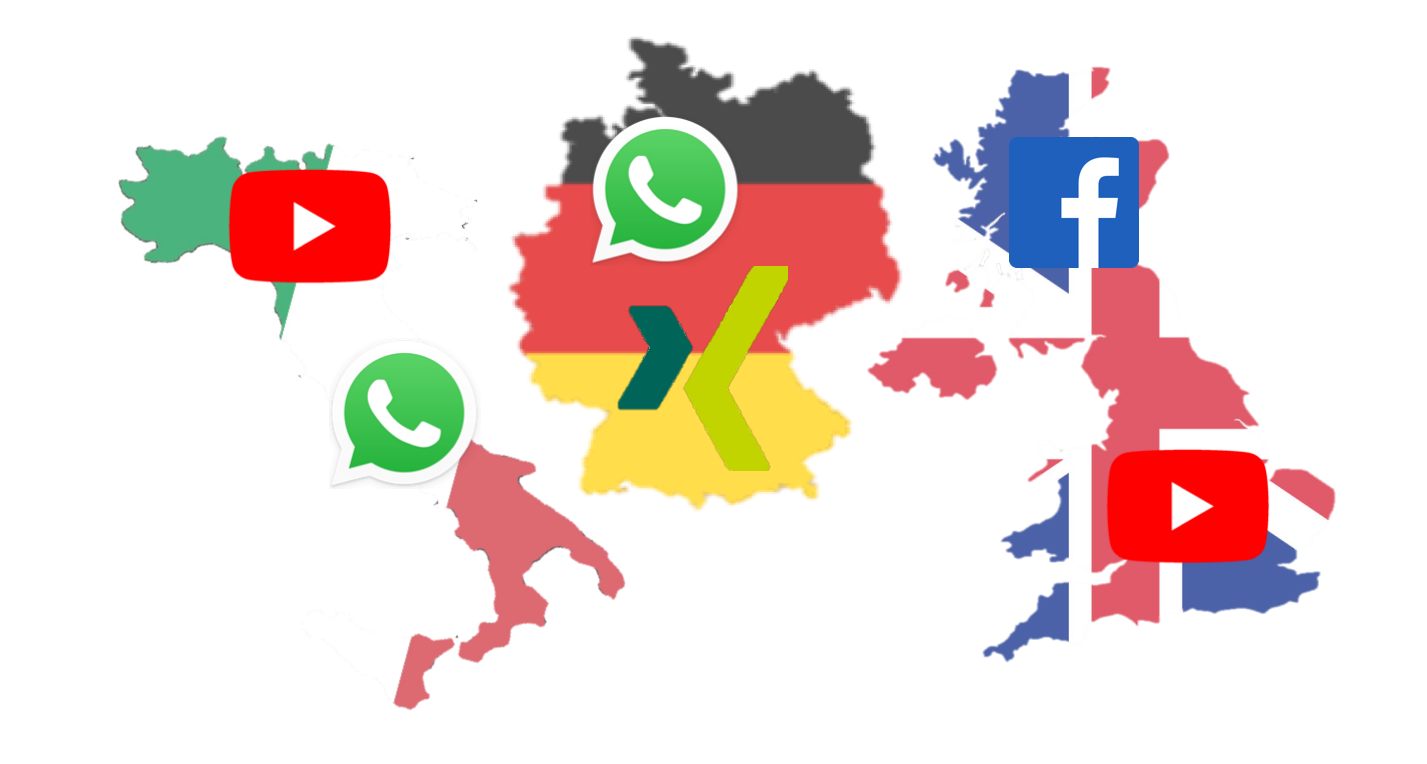 UK & Italy: YouTube
YouTube reaches a broad audience in both the UK and Italy with 78% British and 88% Italian users actively watching videos, surpassing the number of people active on Facebook, WhatsApp and Instagram. YouTube is favoured among the younger age group and less so among anyone older than 25 years. This video-sharing platform can be a benefit for your business because you can repurpose content you have already created without the need to invest time in new marketing strategies.
UK: Facebook
73% of UK users are active on Facebook. Unlike YouTube, individuals aged 25 to 34 years were the largest group of Facebook users while those aged 13 to 17 were the smallest group with only 4.5% of users. Thanks to Facebook insights, you can track the number of active users to understand better the performance on your Facebook business page, making brand exposure easier.
Italy: WhatsApp
WhatsApp is also a popular network to use especially among businesses in the Italian market with 83% of users active on this platform. WhatsApp is mainly used among individuals aged 15 to 24 years with 95% of them using it daily. As of 2017, WhatsApp launched its business version verifying business accounts initially in five markets, one of which was Italy. With WhatsApp Business, the platform allows you to automate messages and quick replies to frequently asked questions by customers making it quick and easy to communicate with your target audience.
Germany: WhatsApp & Xing
WhatsApp holds a strong position at the top of the market in Germany with 80.1% of its users having an active account. There isn't much of a difference among the age groups and both the younger as well as the older generation use the app regularly. With its secured end-to-end encryption, businesses are seen to be more trustworthy and it gives the customer a more personal experience.
Though it may not be one of the top social media platforms used in Germany in general, Xing is one of the top ten regularly used social networks with 15.5 million members. The German version of LinkedIn allows you to connect with other professionals in your field as well as share knowledge and insights with others. It is mainly used among the individuals aged 30 and over but this is clear as it focuses on professional networking rather than social networking in general. Though it isn't globally renowned, it focuses on building a network in German-speaking countries allowing you to build your brand in the German markets.
BEST SOCIAL NETWORKS TO CONNECT WITH THE NORTHERN AMERICAN MARKET:
Social media is widespread in North America and has one of the highest social network penetration rates in the world. With 342 million North Americans using social networking apps, these platforms have been one of the most popular activities to do online.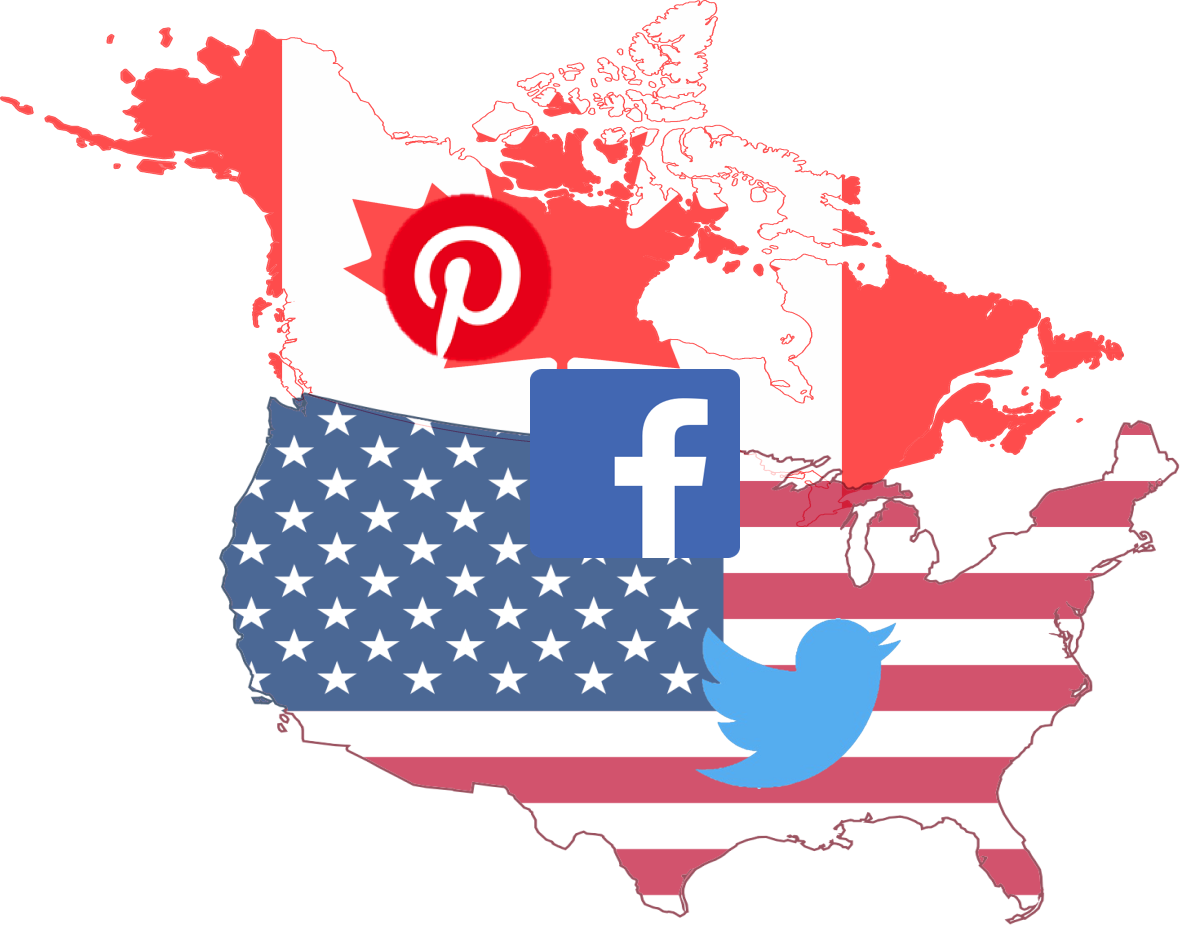 USA & Canada: Facebook
Facebook has taken North America by storm with over 200 million active users in the USA and 24.1 million in Canada. There seems to be a decline of interest among the usage of this app regarding adolescents however the 25 to 34 age category has the largest number of individuals who actively use it. If you are a small start-up business, Facebook can help you grow providing you an easy way to create and promote your company events by inviting anyone you want to your events. Moreover, it makes a Facebook recommendation to those who aren't following you yet.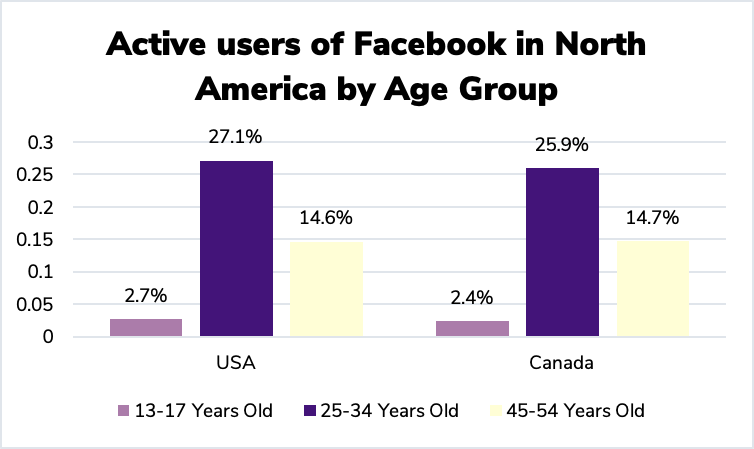 USA: Twitter
In the USA alone, Twitter is among the top social media apps used gaining 64.2 million active users in April 2020. The American microblogging and social networking service allows users to post "tweets" and its biggest audience is among individuals aged below 30 years with 38% of them being active members. Twitter is an open social media platform, so it not only helps you to connect with your existing customers, but also gives you the chance to find new ones.
Canada: Pinterest
Pinterest is a leading social media site in Canada, with 8.25 million active users. Though there wasn't much of a difference between the 18 to 24 age bracket, there were a larger group of individuals who accessed it more in the 25 to 34 age group. Pinterest makes promoting products easy thanks to a program that supports businesses new to advertising on this app. It also allows you to reach out to your target customers thanks to shopping adverts giving you a one-off opportunity to help shape your marketing strategy.
POPULAR SOCIAL MEDIA PLATFORMS IN LATIN AMERICA TO TARGET CUSTOMERS:
Thanks to the growth of technology and internet access, Latin Americans are more connected than ever with 84.5% of the population being active social media users. Due to the high percentage, using social media in the Latin American market will increase sales and brand recognition.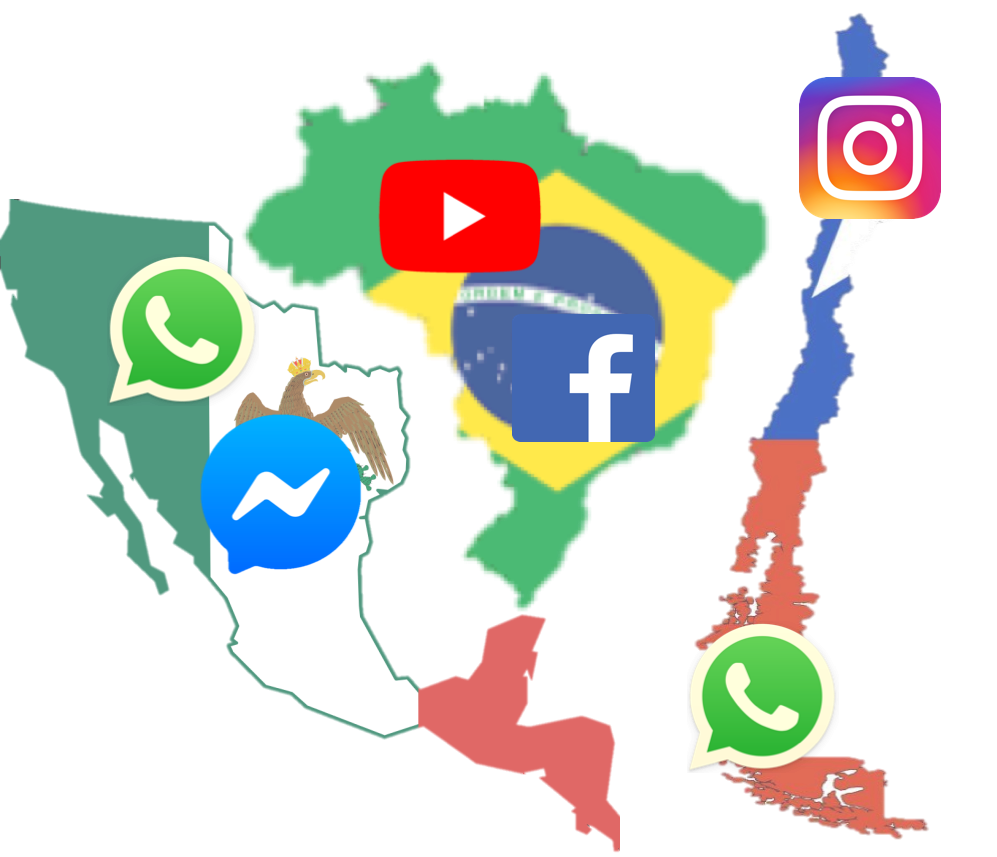 Chile & Mexico: WhatsApp
WhatsApp seems to be the nation's favourite in both Chile and Mexico having 80% active users in Chile and 77 million users in Mexico. Known to be the modern version of texting, users can send unlimited messages as well as photos or videos to friends or families for free. Both countries find that it is popular among the younger and older generation with them using it on a daily basis. WhatsApp allows businesses to set up a business profile keeping in touch with customers making it easy to answer any queries as well as maintain your customer contacts.
Chile: Instagram
Instagram is also favoured among the Chilean market especially in generating purchases of products or services by users. Having 8.5 million Chilean users, 43% of them use this network to buy products or services relating to clothing as well as beauty and cosmetic products. One of the big parts of Instagram are the use of hashtags which help users connect to similar posts, increasing chances of customers interacting more with your brand.
Mexico: Facebook Messenger
Facebook messenger is popular among the Mexican social community with 61.6 million people using the platform which makes up for nearly 46% of the country's population. Similar to WhatsApp, it allows you to text for free, video chat in groups and connect with people instantly. The highest percentage of users on the network were between 25 and 34 years old and it doesn't seem to be as popular among anyone under 20. With Facebook Messenger, you can create a customer service scheme that allows customers to communicate their views with you improving your business and advertising strategies.
Brazil: Facebook & YouTube
Facebook is the leading app worldwide so it is no surprise that is also Brazil's number one social media app with 90 million users registered on the platform. It accounts for 7% of the global Facebook population, meaning this app is great to increase your following for your brand. It seems that everywhere worldwide, Facebook attracts the 25 to 34 age group and this also is the case in Brazil with 29% of them using this app. Facebook allows you to build relationships with your customers by replying to their comments and messages quickly retaining the interest of your current and future customers.
YouTube is in demand in the South American country with 96% of Brazilians watching YouTube videos daily. As opposed to Facebook, the American video-sharing platform remains popular among the younger age group, particularly in individuals aged between 18 and 24 years. YouTube not only reaches a worldwide audience, but it can also increase your search engine rankings helping you grow brand awareness.
SOCIAL MEDIA NETWORKS THAT WILL HELP YOU EXPAND IN AFRICAN MARKETS:
With 1.32 billion people in total, nearly half of the population are internet users and only 217.5 million are active social media users.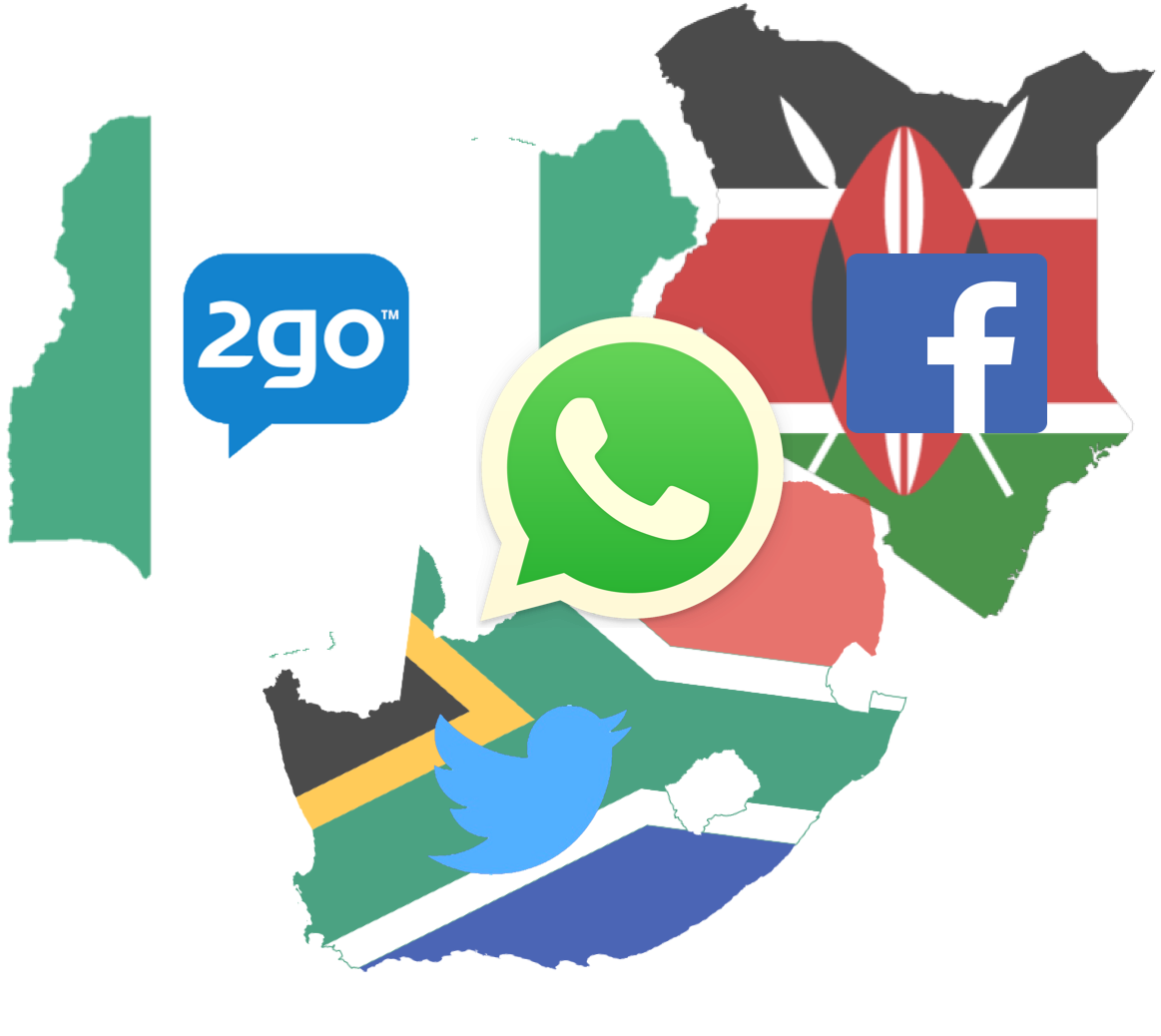 Africa, Kenya & Nigeria: WhatsApp
WhatsApp is the number one messaging app in Africa with 89% of internet users using the platform in South Africa, 96% in Kenya and 94% in Nigeria. In all three countries, this messaging platform, is generally popular among the 25 to 34 age group and less so among the younger community. WhatsApp has recently added a function called Broadcast, and this allows your brand to share important updates about your business with all your customers, meaning that they will never miss any promotions or changes to your brand.
South Africa: Twitter
Twitter is also another favourite in South Africa gaining 7.7 million active members. This platform is split relatively evenly across age groups with little difference among the 16 to 24 age bracket and 25 to 34 age group. Making your brand active on Twitter, shows that you want to interact with your customers. Furthermore, people who follow your brand are more likely to visit your company website.
Kenya: Facebook
Facebook is the nation's favourite social media network with 7 million active members. The app is mainly used by those under 30 and unpopular among the older generation, with only 2% of members aged between 55 and 64 years. Facebook's advertising tools makes reaching people even easier and it makes advertising effective. With this tool, you can target your audience based on age, gender and location and it can maximise your reach to your target customers.
Nigeria: 2Go
2go, a South African social networking application, has a high following in Nigeria with over 10 million active users. Just like WhatsApp and Facebook Messenger, it allows you to communicate with your friends for free only using Wi-Fi or network connection to exchange messages among each other. It is mainly used among 18 to 35 age bracket with 85% of them owning an active profile. With various types of advertising (graphical and text-based adverts) as well as audience demographics, this platform provides brands with excellent brand exposure in the Nigerian markets.
WHAT'S NEXT:
It is important to have an understanding of each platform's unique purpose and whether they meet your values and your target audience uses. Thanks to technological advancements, it seems that social media shall be more integrated in our lives in the future and this may be the new way to maintain relationships among businesses and consumer clients.